Story Slam Ticket - How I Got Here
SS2018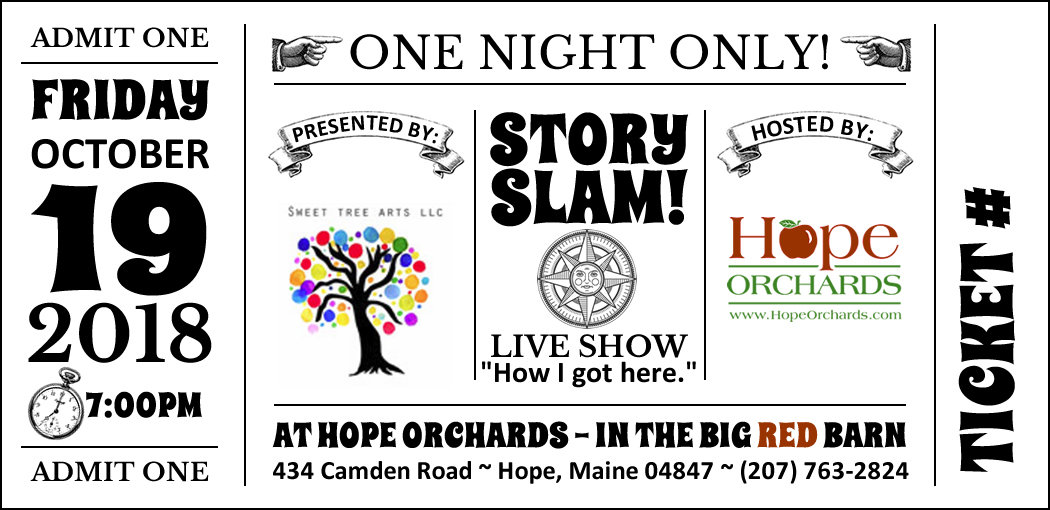 Friday, October 19, 2018 - 6 - 7pm variety tasting, show starts at 7pm. - Hope Orchards - Big Red Barn
Start the evening by sampling over 20 varieties of Maine grown apples and pears from 6:00pm - 7:00pm. All varieties are available to mix and match for purchase. Variety sampling will be followed by the "How I got here" themed Story Slam at 7:00pm. The Story Slam is a shared event with Sweet Tree Arts and Hope Orchards. Each storyteller tells their story around the theme of 'How I got here'. These are personal stories that are told and not read. Stories may contain adult content. Ticket profits will go towards the scholarship fund at Sweet Tree Arts.

Tickets will be available at the orchard also during the open hours.

Seating is limited to 100 for this show - get your tickets before we are sold out!